DISCLAIMER:
Rooting your phone will violate your warranty. Also, doing so could result in irreversible damage to your phone. We are not responsible for damage and/or misuse to or from your phone.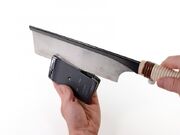 WINDOWS: One- Click Method First, you will need to download. [Windows One-Click Method]
Secondly, make sure your system meets the minimum requirements:
· You will need the proper USB Drivers. [Found Here]
· You will also need to have ADB installed. [Found Here]
Next, on your phone, you will need to:
· Under Settings>Applications, make sure "Unknown Sources" is checked.
· In that same menu, click on "Development" and make sure "USB Debugging" is enabled.
Now, we're all set! Time to Root!
· Make sure you've completed the above steps before doing anything.
· Extract the Moto_Razr_Root_windows.zip downloaded previously to a folder.
· Click "runme.bat"
· Press any key to begin the root.
Your phone will reboot. Do not unplug until the command line says "All Done!"
All credit for this root exploit belongs to Team Revolution
They have asked that if you wish to support them and their efforts please donate to the https://supporters.eff.org/

thumb|350px|left|A video of How to Root Droid Razr (Windows)
MAC / LINUX Method
· Open a Terminal.
· Navigate to the extracted directory.
· Invoke the script as "./root_me_now.sh"
· Follow the directions.
thumb|350px|left|A video of How to Root Droid Razr (Mac or Linux)